Parent, Staff and Student Satisfaction Reviews
A significant challenge facing today's school leaders is the word-of-mouth views of school stakeholders. In any school community, a simple miscommunication can result in a damaged reputation through misinformed networks. MMG Education's comprehensive
Parent, Staff and Student Satisfaction reviews
give school leaders
clarity
and
confidence
about a school's performance with key stakeholder groups. Online surveys are developed and tailored for each group, leveraging from MMG Education's experience and benchmark information. The online surveys cover all key aspects about your school relevant to each stakeholder group and are designed to identify 'gaps' in stakeholder views.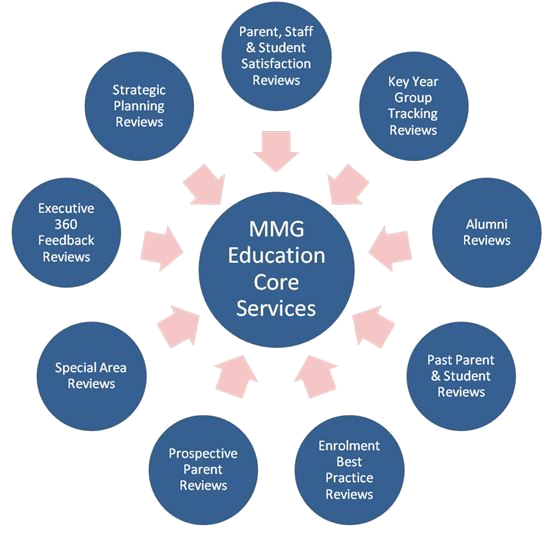 Services
MMG Education are leaders in tailored school stakeholder research and performance benchmarking. Our research informed services span three core areas:
School stakeholder satisfaction reviews.
School strategic planning.
Enrolment best practice.
Whole of school satisfaction and school performance reviews
Parent and student satisfaction and school performance reviews at key transition stages e.g. Years 1, 6 (exit/transition), 7 (entry), 9 and 12 (exit)
Segmentation, perceptions, services, relevance, engagement, reunions, support and development interest
Enrolment processes, conversion metrics, resources, enrolment dashboards, procedures, contact management, collateral, competencies
School choice position, perceptions, views, engagement (a key element of the Enrolment Best Practice Process)
A range of reviews such as ATAR modelling, wellbeing, boarding, music, sport etc.
Provides confidential feedback regarding executive performance in such areas as communication, personal attributes, role effectiveness, collaboration, continual improvement, strengths and weaknesses
Designed specifically to assist schools with their strategic planning, monitoring and performance measurement
To learn more about how MMG Education can help your school to improve and grow, complete the form and one of our Directors will contact you.