Quality of teaching is without question the single most important reason for parents' choice of a school for their child. As such, any positive and supporting initiative and feedback to teachers should be welcomed as part of their continual improvement process.
The Student Evaluation of Educational Quality-Schools survey (SEEQ-S) is a tool developed by the Australian Catholic University's Institute of Positive Psychology & Education (IPPE), under Professor Herb Marsh.
The SEEQ-S survey tool is aimed at assisting secondary school teachers by providing them with confidential feedback from their students on their learning experience for professional development purposes.
Testimonials
"I found it amazing feedback. Very useful and small enough class sizes that I could read through all the comments."
"This is outstanding reporting for the teacher feedback tool! ... The beginning of something very special for teachers to use in reflection to inform their practice. I would encourage every teacher to do this if and when the opportunity arises. Fantastic!"
"I think that the survey is an excellent way of seeking feedback that we wouldn't otherwise get from our students. I didn't front load the boys with too much information prior to them doing it as I wanted to get their genuine unprepared responses. Overall, I was very happy with the process and the feedback I received, (particularly the comments)"
The survey focuses on 15 key domains relating to students' classroom experiences and provides teachers with feedback on each of these.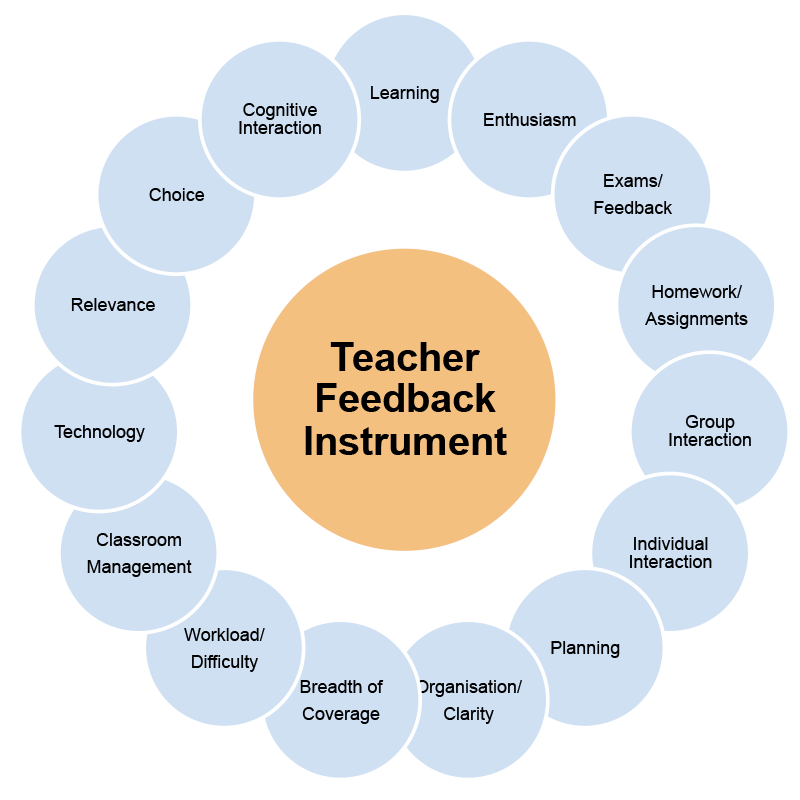 Teacher Feedback Process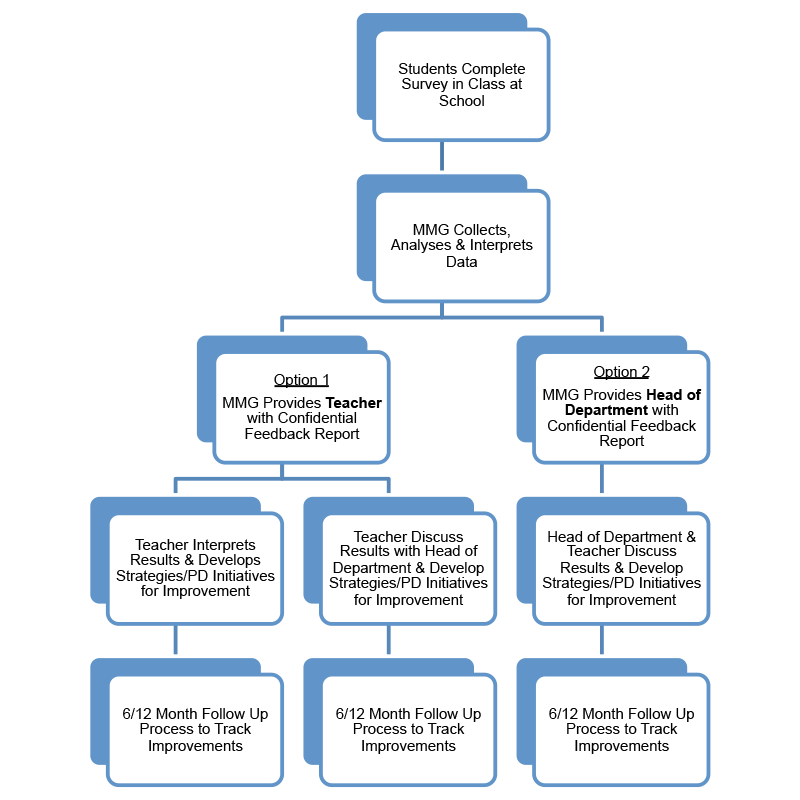 Sample Output – Overall Scores – Variance to 2017
2018 SEEQ-S - Overall Scores
2018 Variance to 2017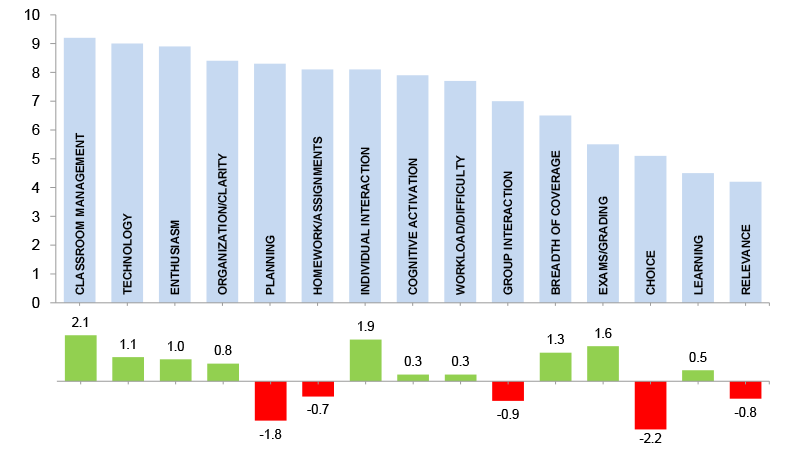 The above chart shows the overall 2018 scores for the Variance to 2017 each of the 15 domains for all five subjects (115 students) and their variance to 2017.
In this chart, the green bars show the increase from 2017 and the red bars the percentage decrease.
Highest

increases from 2017 are:
Classroom Management (+2.1)
Individual Interaction (+1.9)
Homework/Assignments (+1.6)
Highest

decreases from 2017 are:
Choice (-2.2)
Planning (-1.8)
Group Interaction (-0.9)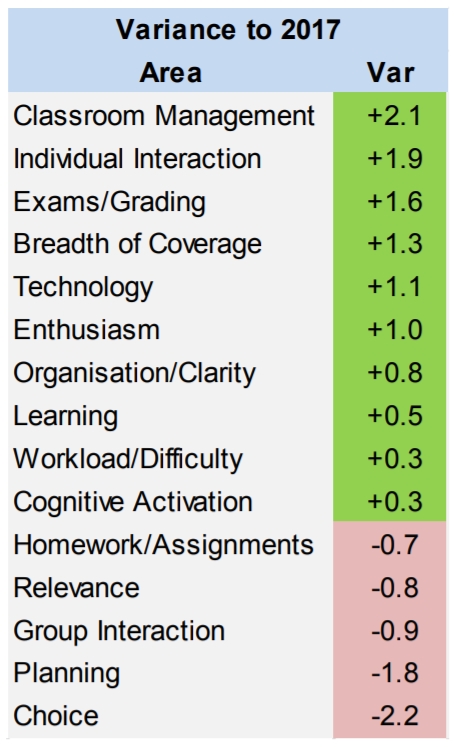 Sample Output – Year 7 English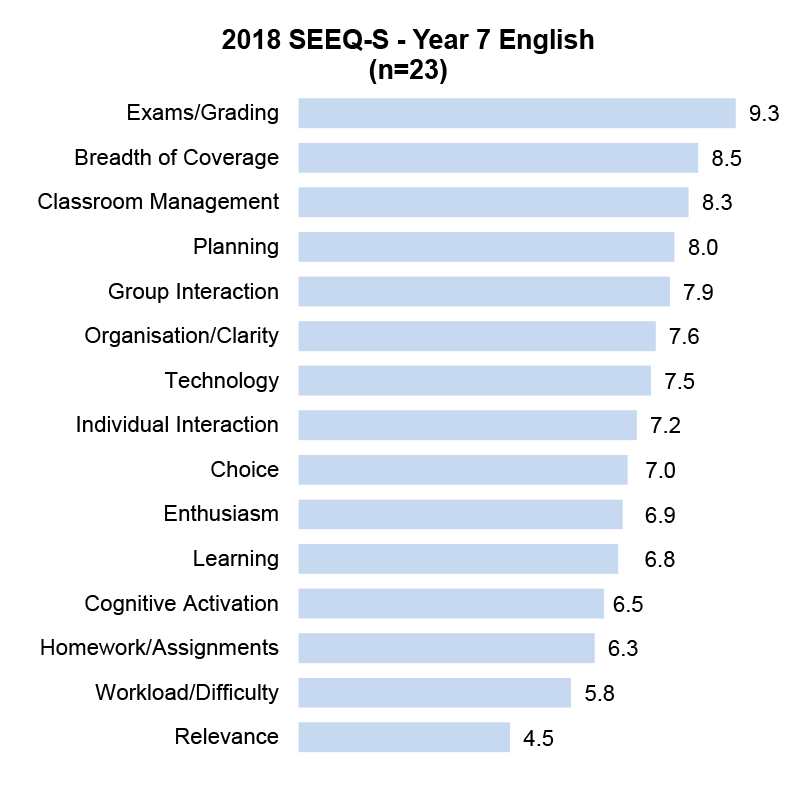 The above chart shows Year 7 English students' scores for the 15 domains.
Highest

scoring domains for this subject include:
Exams/Grading (9.3)
Breadth of Coverage (8.5)
Classroom Management (8.3)
Lowest

scoring domains for this subject include:
Homework/Assignments (6.3)
Workload/Difficulty (5.8)
Relevance (4.5)
Sample Output – Year 7 English – Open Responses
2018 Year 7 English - What specifically does your teacher do well to enhance your learning?
A lot of explaining and techniques to build a perfect essay.
Class discussions, reading, and writing.
Explains in detail, encourages students to get the best result, gives us reliable examples that we can compare our work with.
Explains things well
Give feedback and uses different ways to make us learn
Gives all of us usesul feedback
Guide us to understanding the topic
He can keep my attention to the topic in class by using interesting ways of learning
He could help with my understanding in vocabulary
He helps if needed
He helps us work through different things for our assessments.
He is really chill
He is very enthusiastic.
Helpful feedback on assignments
Helps students understand things that haven't been made very clear
Helps with the work load and teaches us about stuff
Hes fun and energetic
Humour
Is enthusiastic for subject, always provides feedback and promotes a positive learning environment. He is always there for
us when we need help in English.
My teacher is very enthusiastic and makes learning fun
My teacher treats students as individuals and works with them as such so that not only do we have a good studentteacher relationship, but our education is tailored to be more personal
Positive attitude
Shows great liking towards the class and subject
2018 Year 7 English - What additional things, if any, can your teacher do to enhance your learning?
Explain tasks clearer and further in depth
Focus slightly less on class discussions/exchanges and more on practical work
However the teacher needs to go through concepts slower as i can't keep up
I think he is doing everything he could be doing.
More class discussions.
Nothing, he's good
Spending more time on revision work
The teacher separate the students that won't stop talking so that I can concentrate on my learning
Use more interactive games in class